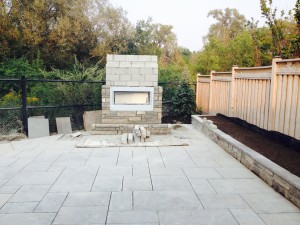 A well-constructed interlocking surface can last for decades with minimal maintenance, but that doesn't mean it never needs to be repaired.  Over time pavers may become corroded, cracked or broken.  General wear and tear, heavy traffic, water saturation or freezing may create rough patches or uneven sections.  In these situations, you'll need to turn to an interlocking repair expert you can trust.
For more than 20 years, Epic Paving and Contracting has been Ontario's top choice for interlocking repair and installation.  Thanks to our wide range of options for both commercial and residential properties, as well as out consistent quality and expertise, we've garnered a reputation as one of the Greater Toronto Area's most trusted and reputable construction companies.
We can help repair and restore your brick or stone interlocking to a pristine condition.   We'll help determine why your interlocking failed in the first place, and help ensure that our repair fixes the underlying problem.  This will help keep your patio, walkway, retaining wall or other interlocked feature looking great and serving its purpose for decades.
If your pavers are uneven, or if they're disappearing along a fixed edge, our expert professionals can help restore them to their original beauty.  If your pavers have settled, or are causing water to puddle on them, our highly skilled team can reinstall your walkway, helping it look and function as good as new.
We stand behind our quality workmanship.  Whether it's a complete interlock installation from scratch or repair and refurbishing of an existing interlock feature, we take every possible step to leave your property with a great-looking, durable piece of work.  It doesn't matter how small or large the project; we give the same dedicated, consistent approach to every project we take on.
Our expert professionals are standing by, waiting to help you with your next major project.  Call us today to schedule a consultation or to set up a quote for your project.