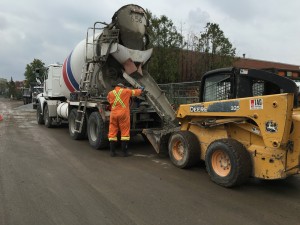 When you install a concrete driveway, you can be assured you're getting a long-lasting, maintenance-free surface that will improve both the aesthetics of your home as well as the value of your property.
When properly installed and maintained, a concrete driveway can last for more than 30 years, with a very low level of maintenance and aftercare required.  From functionality to versatility, no other surface tops what concrete can offer.
Concrete is one of the strongest materials available, and has great long-term structural integrity.  Your driveway needs to be able to stand up to thousands of pounds of pressure, no matter how large or small your car is.  Concrete is incredibly dense and strong.  It's an ideal load-bearing material, which will not crack or break under the strain when installed by the professionals at Epic Paving and Contracting.
Maintaining your concrete driveway is simple, as well.  Most stains and marks can be simply removed with warm water and soap.  That will help keep your driveway looking new for years after installation.
In addition to standard concrete, Epic Paving and Contracting also offers stamped concrete options.   Stamped concrete adds unique patterns and textures to your driveway, allowing for a wide range of design choices, custom to your home.  Concrete doesn't have to just be a flat, grey slab—it can be an eye-catching part of your home's design.  It's a very flexible material to use.
Epic Paving and Contracting has been supplying the Greater Toronto Area with high-quality, durable concrete services for more than two decades.  We take pride in every project we handle, giving you nothing but the best quality materials, the most cutting-edge equipment and the most experienced installation you can find.  We ensure that your concrete driveway will look good for years to come, even in Toronto's rough winter weather.
Concrete is long-lasting, durable and effective.  It's a surface that makes for fantastic driveways, and should be considered for any home improvement project.  When you choose Epic Paving and Contracting, you can ensure that you'll get the highest quality service at the best prices.  We'll help you pick the surface that's best for your next project.