Asphalt Parking Lot Paving Toronto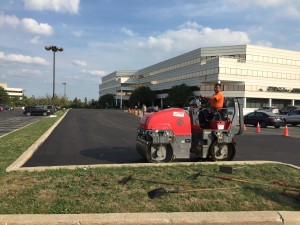 Asphalt parking lots are one of the most common types of parking lot you can find.  It's been a top choice for facilities of all sizes for years, especially as you travel north and reach harsher winters.  It's a fantastic choice for a parking lot surface, no matter the size of the lot in question.
Asphalt is a fantastic choice for a surface in cold weather.  Because asphalt is more pliable than concrete and other surfaces, it can flex and survive repeated freeze and thaw cycles without extensive cracking or other damage.  It's a much more forgiving surface in harsh winter conditions than other options.  The black color of asphalt also soaks in the heat from the sun, which can help melt standing snow quicker than other surfaces.
Asphalt is generally the most cost-effective option for parking lot surfaces.  It generally is the cheapest hard surface to install, though it requires the most ongoing maintenance.  That doesn't mean you lose out on longevity, however; a well-maintained asphalt lot can easily last 20-30 years, depending on drainage and climate.
Asphalt is an excellent, low-cost option.  If the up-front costs are your largest concern when picking your next parking lot surface, asphalt might well be your best bet.  It's an economical and beautiful solution.
Here at Epic Paving and Contracting, we are proud of our reputation as one of the Greater Toronto Area's most reputable construction companies.  From asphalt paving to interlocking, concrete and so much more, we've been supplying property owners throughout Ontario with expert service and knowledge for more than 20 years.
We treat every new project with a gimmick-free approach, focusing on quality while delivering a quick, efficient turnaround.  When you're looking for your new asphalt parking lot, you're looking for a company that can deliver a high-quality product to time and budget.  Epic Paving is that company.
Asphalt is a long-lasting, cost-effective and attractive service.  When you're planning your new parking lot, asphalt should be one of the first surfaces you consider.  Our installation professionals will help you pick the surface that's best for you.