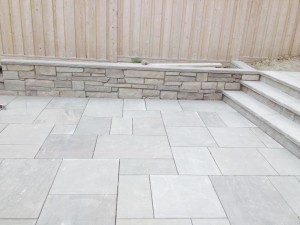 Interlocking paving can add a touch of elegance to your property.  Aesthetically pleasing, coming in a wide variety of patterns and colors and easy to use, they'll add to the overall look of your home or business for decades to come.
Many people find the effect of interlocking paving slabs to be much more attractive than plain concrete or asphalt.  Interlocking paving comes in a variety of colors, styles and designs, allowing you to select the aesthetic look which best meets your needs.  The wide variety of patterns, shapes and sizes available means that interlocking paving can blend in with practically any architectural design.
Interlocking paving is low-maintenance, as well.  Stained or broken pavers can be easily individually replaced, and well-maintained pavers can last for decades.  They resist cracking, as well as damage from freeze-thaw cycles and salts.  They are actually stronger than concrete, too.
They're a perfect choice for snowy conditions, as well.  Smooth interlocked surfaces helps for easy snow removal, while dark-colored pavers absorb sunlight better, helping melt snow faster.  There's almost no end to the benefits interlocking stone can give you.
At Epic Paving and Contracting, we've been helping our friends and neighbors in the Greater Toronto Area with high-quality interlocking services for more than two decades.  From patios to retaining walls, walkways to landscape features, we've done it all, and can bring our level of expertise to your next project.
We offer a wide variety of quality stones and bricks, so you'll have plenty of selection to get that perfect finish.  We use modern designs and the highest quality materials to ensure that your new interlocked surface will last for decades to come.
We work with you, helping you choose the materials most appropriate to your project.  From the initial sub-base to final cleanup, we take extra care to provide nothing but the highest quality workmanship.
Interlocking paving is an attractive, elegant way to add value to your property and style to your yard.  Talk to one of our installation professionals today to set up a consultation!