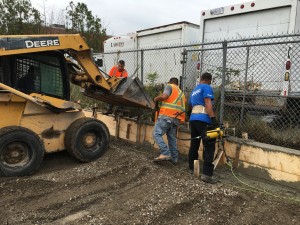 Concrete walls bring with them a great many advantages and strong points, making them a solid solution for your next residential or commercial project.  From retaining walls at the border of your property to a new commercial office structure, concrete walls are an excellent choice for your next construction project.
Very few materials can match concrete's thermal performance, storm resistance and sustainability.  A well-made concrete wall will stand the test of time, lasting decade after decade.  Their strength is unmatched; a poured concrete wall stands up to compressive and flexural forces much better than a block wall.  That makes it a sturdy solution, no matter what your project calls for.
A solid concrete wall is not only naturally fire resistant, it also is highly water resistant; it's strength, density, and joint-free construction drastically reduces the chance of any water problems developing.  Add in its very low level of maintenance, and you can see why more and more people are turning to concrete walls.
Epic Paving and Contracting has been pouring concrete walls for over 20 years, serving our friends and neighbors throughout the Greater Toronto Area.  Our experience allows us to bring a level of expertise and professionalism you simply will not find anywhere else, as we've tackled every sort of contracting project you can imagine.  Whether it's concrete steps, curbs, walls, sidewalks, walkways, patios or anything else, our qualified experts will ensure you get a smooth, long-lasting uniform finish.
Our expert professionals will work with you, going over your plans from start to finish to ensure you select the best material and best plan for your project.  We keep you involved throughout the process; our main goal is to ensure you get the concrete work that best fits your unique needs and circumstances.
Every aspect of our work is designed to provide nothing but the best results.  We use the highest quality materials and latest tools and equipment to ensure your wall or other concrete structure lasts, even in Toronto's rough weather conditions.
Concrete is one of the toughest and most resilient materials you can use.  Speak with one of our installation professionals today for a free quote, and let us help you get the most out of your next project.