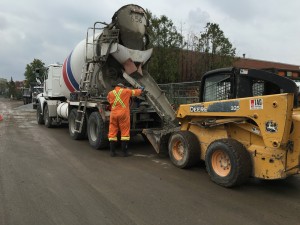 No other material has stood the test of time like concrete.  Concrete parking lots are a fantastic choice, combing durability and appearance to create a fantastic option for any size lot.
Concrete's strength is legendary.  It's one of the strongest materials available, and won't crack or buckle under the thousands of pounds of pressure a parking lot suffers.  It has fantastic long-term structural integrity, and will survive the wear and tear of regular use for decades when properly maintained.  When you get a concrete parking lot installed by the professionals at Epic Paving and Contracting, you can rest assured that your lot won't crack or break under strain.
New equipment and techniques have made concrete both a cost-competitive alternative to asphalt, as well as a more durable one.  It also has many cosmetic advantages.  Stamped concrete can mimic a wide variety of patterns and textures, allowing your parking lot to be more than just a place to park cars—it can be part of the aesthetic appeal and visual design of your property.
Epic Paving and Contracting has been supplying the Greater Toronto Area with high-quality, expert concrete installation for more than two decades.   We use nothing but the highest-quality materials and the newest and most up-to-date equipment.  Our paving experts will ensure a uniform, long-lasting finish on every project we take on.
When you have your concrete parking lot, driveway, sidewalk or more installed by the professionals at Epic Paving and Contracting, you can rest assured you're getting nothing but the best.  The finish on your new concrete installation will last, even in Toronto's rough weather conditions.  We ensure a high-quality and long-lasting surface from start to finish.
The paving professionals at Epic Paving and Contracting will work with you, visiting your property and discussing all possible options for your next parking lot.  You can contact us for a no-obligation quote, as we help you make the appropriate decision for your project.