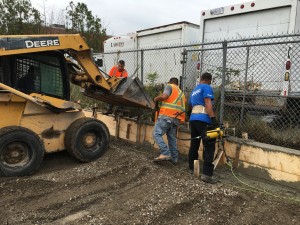 A concrete dolly pad makes an ideal solution for commercial loading docks.  Dolly pads help protect your foundation where semi-trailer landing gear drops.  As a cost-effective, long-lasting solution that can support the heaviest of loads, concrete is an ideal material if you're looking for long-lasting, dependable results.
With more than 20 years of experience, Epic Paving and Contracting knows what it takes to create a solid, long-lasting commercial concrete dolly pad.  We have the experience and expertise to ensure that you get a dolly pad that fits your needs, with the right size to fit your traffic and the right strength to handle your loads.
Our qualified technicians will ensure that your concrete has a smooth, uniform finish.  We're a fully licensed and bonded company, so you can count on us to provide professional, high-quality concrete finishing services, just as we've done for all our neighbors here in the Greater Toronto Area.  From residential patios to major commercial projects, Epic Paving and Contracting has the equipment, the experience and the know-how to produce stunning, high-quality surfaces every time.
We can handle any job, no matter how large or how small.  We approach every job with the same dedicated approach, providing dependable results and quality workmanship at reasonable prices each and every time.  That's how we've built a reputation as one of Ontario's most trusted construction companies; we take pride in every project we work on.
The experts at Epic Paving and Contracting will work with you every step of the way, helping you select the options that best fit your needs and solve the issues of your unique situation. Every aspect of our service is optimized to provide the most impressive results. Contact us today to set up a no-obligation quote and consultation, and start on your way to superb commercial concrete construction.