Clear Out Unwanted Junk and Clutter with Bin Rental from Epic Paving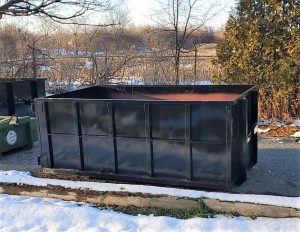 Epic Paving & Contracting Ltd. also offers a range of mini bins for rental to help you clean out the unwanted junk and clutter from your Home or Business.
Fully licensed and insured we can help you reclaim that cluttered space.
We offer rentals of bins in 3 sizes:
4 yards, 10 yards, and 12 yards so we have the right size bin for projects both big and small.
Mixed waste and renovation debris can all be in one bin but some waste must be separated and will need its own bins so keep this in mind when making your decision.
Asphalt, concrete, earth/ soil & bricks would all need to be placed in separate bins for appropriate disposal.
Once you have made your decision on what size bin you need and determined what kind of waste it will be used for our professional team of dispatchers and drivers will coordinate a drop-off time for your bin.
Once you have filled your bin and cleared your space our team will return to pick up the bin and dispose of the debris at the appropriate waste disposal location.
Need a Bin Rental Quote?
Call the Pros Today!